1 February 2021
|
TALINKO
Notice of appointment – TALINKO
Notice of appointment for an Executive Director – Executive Recruitment – TALINKO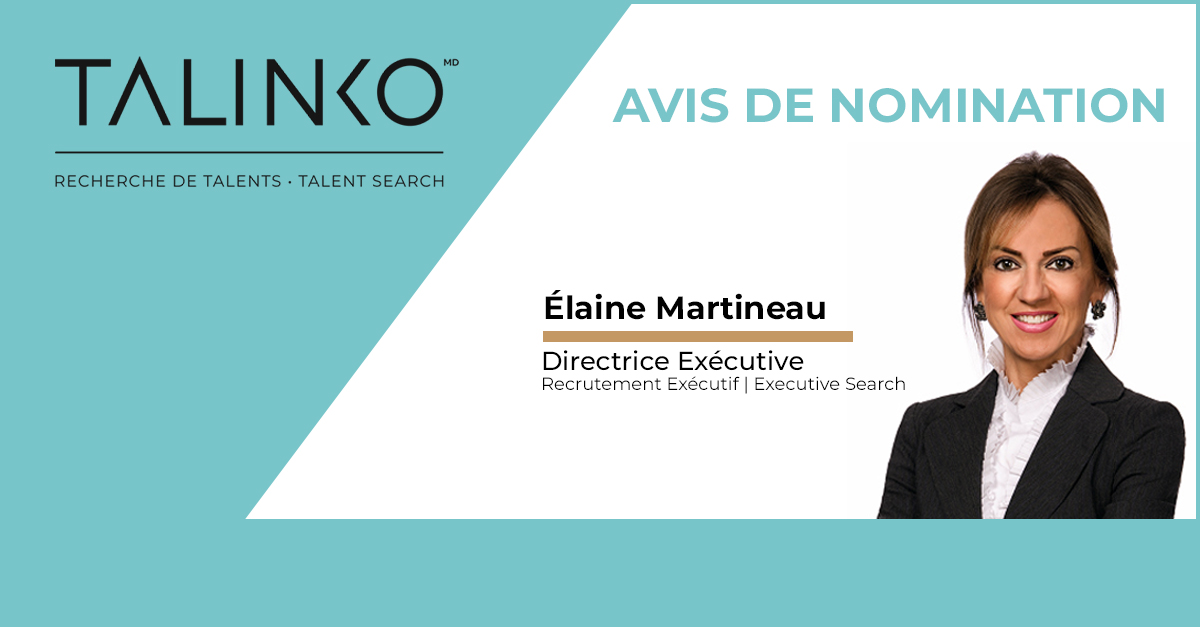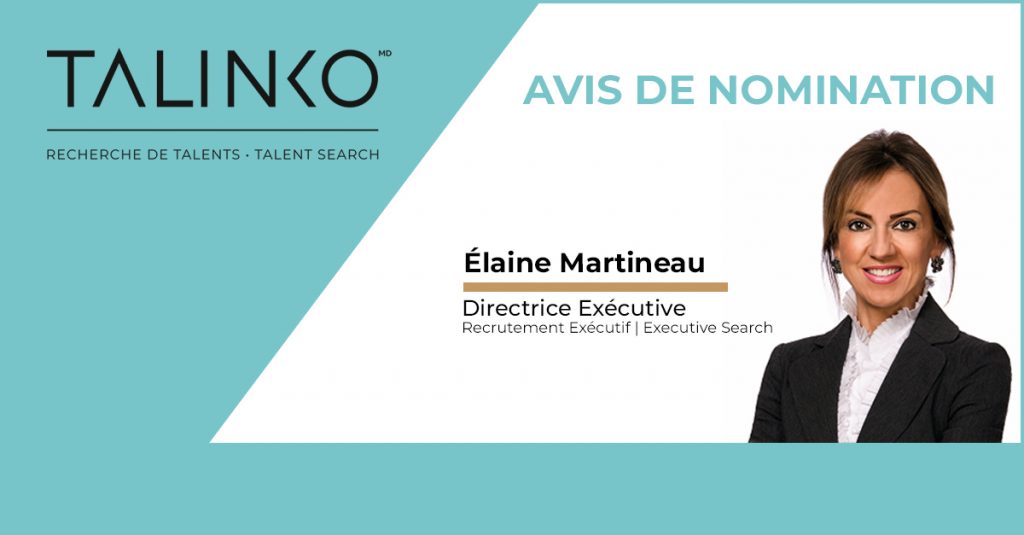 Montreal, February 1, 2021 – Ms. Lucie Pellerin, Founding President of TALINKOTM– Executive Search, is proud to announce the appointment of Ms. Élaine Martineau as Executive Director | Executive recruiting.
Previously Director, Executive Recruitment at Raymond Chabot Human Resources (RCRH) for almost 16 years, Elaine joined TALINKO to cultivate her entrepreneurial spirit, while pursuing her expertise in executive search.
Holder of a bachelor's degree in industrial relations and a specialized master's degree in human productivity management, Elaine has 20 years of experience in consulting, specializing in recruiting mid-level and senior executives as well as board members. A generalist, she has a solid track record in carrying out mandates in the public, parapublic, municipal and private sectors, and in all of the functions of a company. She builds solid business relationships with her clients based on listening, respect and genuine communication. It is with a view to growth that
Ms. Martineau joins the firm TALINKO and its committed team of specialists in executive recruitment. Her vast experience will contribute to the firm's mission of providing its clients with the most personalized, innovative and efficient support and service possible.
We are convinced that her experience and skills will be of considerable benefit to the company and all of its clients.
We wish her a warm welcome and good luck!
About TALINKO

TALINKO is a boutique firm specializing in the recruitment of professionals, middle and senior managers with high potential. Its distinctive and complementary services make it a partner of choice and exception.
If you want to know more about the firm, visit us on LinkedIn and our website.
Are you looking for a trusted partner for the recruitment of executives, managers and professionals? Contact Elaine at elaine.martineau@talinko.ca
TALINKO Market for
employers
What is the TALINKO Market? It's a smart and innovative tool that allows you to identify the best available talents to contribute to the success of your business.
TALINKO Market for
candidates
What is the TALINKO Market? It's a smart and innovative tool that allows you to identify the best available positions for promoting your career development.